Scientific thematics:
It will develop activities (lectures, training, workshop/conference organization, application to regional and international calls) in the following fields: High Performance Computing, Data Science with a special concern on involving biologists and medical partners.
CApIC African Center of Excellence
Applied Informatics and Communication
Covenant University –  Nigeria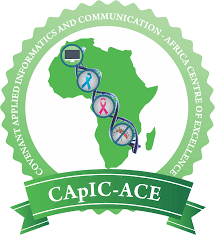 Presentation
Covenant Applied Informatics and Communication Africa Centre of Excellence (CApIC-ACE) domiciled at Covenant University is an ACE-IMPACT created in 2018.
CApIC-ACE was established based on the urgent need to build a critical mass of indigenous African scientists with the necessary bioinformatics, molecular biology, and information & communications engineering knowledge and skills to drive and sustain impactful researches in the areas of malaria, prostate and breast cancer as well as cloud & high performance computing as related to personalized medicine, in collaboration with academic, clinical and industrial institutions in Nigeria, West Africa, Africa, Germany, France, US and UK.
Its mission is to be a leading teaching and research center of excellence with state-of-the-art Information and Communication Technology (ICT) infrastructure that is dedicated to building indigenous capacity through training in bioinformatics, ICT and molecular biology to reduce the disease burden in Africa.