CEA/ITECH-MTV
African Center of Excellence in BioTechnological Innovations for the Elimination of Vector-Borne Diseases
Université Nazi Boni, Bobo-Dioulasso, Burkina Faso
Center managers :
Contact us: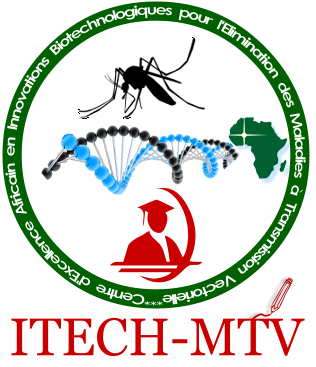 The Centre d'Excellence Africain Innovations Biotechniques pour l'Élimination des Maladies à Transmission Vectorielle (CEA/ITECH-MTV) is an ACE IMPACT project supported by the World Bank.
ITECH-MTV focuses on biotechnology and the development of control tools targeting the elimination of vector-borne diseases such as malaria, dengue fever and trypanosomiasis. Gene Drive " technology and the use of hereditary endosymbionts such as Wolbachia symbiotic bacteria will be developed.
The center's objectives are to train a large pool of specialists in disease vectors through high-quality training, to assist the Ministry of Health in its decision-making processes, to design vector control strategies adapted to specific epidemiological contexts, to promote the results of research and teaching and their application at national, regional and international level, and to encourage the creation of innovative companies exploiting the center's research findings.
The center's research projects focus on genetic approaches to vector control; insecticide resistance and resistance management; breeding ecology and behavior; host-pathogen interactions and transmission blocking strategies; social sciences in health and VD; Neglected Tropical Diseases (NTDs), and biosafety and organism regulation.
Scientific themes :
Medical and Veterinary Entomology

Ecosystems - Health - Societies

Molecular Biology & Genetic Engineering

Biosafety - Biosecurity - Quality Management
Key capabilities :
Level 2 containment insectarium or ACL2 for rearing genetically modified mosquitoes

Biological testing laboratory 

Microbiology, parasitology, entomology, biology and virology, molecular biology laboratories

Fully equipped P3 laboratory 

Insectarium de Bobo-Dioulasso - Coping with Trypanosomiasis and Tsetse fly eradication campaigns (IBD-CETT), (ex. PATTEC)
Key regional and global partners
Dr. Mamadou Coulibaly, University of Mali (MRTC) 

Dr. Fred Aboagye-Antwi, University of Ghana

Dr. Fredros Okumu, Ifakara Health Institute, Tanzania 

Pr. Charles Mbogo, Pan African Mosquito Control Association (PAMCA), Kenya

Prof. Austin Burt, Imperial College London, England 

Prof. Frederic Tripet, University of Keele, England 

Prof. Raymond St Leger, University of Maryland, USA

Dr. David Malone, Innovative Vector Control Consortium (IVCC), England