World Bank High Level Event, Washington DC, October 17 - 18, 2022
Innovation Tour, Boston, October 20 - 21, 2022
The African Centers of Higher Education Excellence for Development Impact (ACE Impact) projects support universities in West Africa and Djibouti to provide high-quality training and education and undertake applied research in priority areas such as health, agriculture, STEM, education, and the environment. The ACE Impact projects, which are the third in the ACE project series, were launched in 2019 and, through a sector-wide approach, have identified and are addressing the higher-level skills needs and innovation requirements for these priority sectors in the region.

The World Bank, along with the French Development Agency (AFD), the Association of African Universities (AAU), and the National Research Institute for Sustainable Development (IRD) will co-host a two-day on-site event entitled Centers of Excellence in Africa: A Pathway toward Sustainable Development at the World Bank's headquarters in Washington, DC, on October 17-18, 2022.
This event will present to World Bank management, key partners, and African governments the impact to date, opportunities, and challenges facing ACEs and the broader higher education sector in sub-Saharan Africa (SSA).
The event will also draw on the experiences and contributions of key development partners and funders by facilitating discussions on the current implications of the ACE Impact project in the development space, ongoing donor and funding initiatives in the Africa region, and ideas for future collaborations. Key partners include the Rockefeller Foundation, IBM, CDC Africa, WHO, the Wellcome Trust, Harvard University, MasterCard, the Carnegie Corporation, and the Bill and Melinda Gates Foundation.
The objectives of this meeting:
The main objectives of the event are:
● To organize a follow-up and complementary event to the World Bank's education strategy for West and Central Africa to support its implementation with respect to the higher education sector, and the strengthening of regional integration and partnerships.

● Disseminate the impact of ACEs to date in terms of contributions, innovations, and best practices to address key regional development challenges and global crises that relate to COVID-19, climate change, energy independence, food security, and digital transformation.

● Identify opportunities to accelerate the development of quality higher education, research, and innovation in SSA, particularly in STEM fields, while promoting regional integration (by contributing to the implementation of the AFW Regional Education Strategy.

● Enhance regional collaboration by promoting the ACE model for replication in the region, highlighting networking and knowledge exchange on higher education and research initiatives in Africa.

Learn more, and register online >> World Bank Event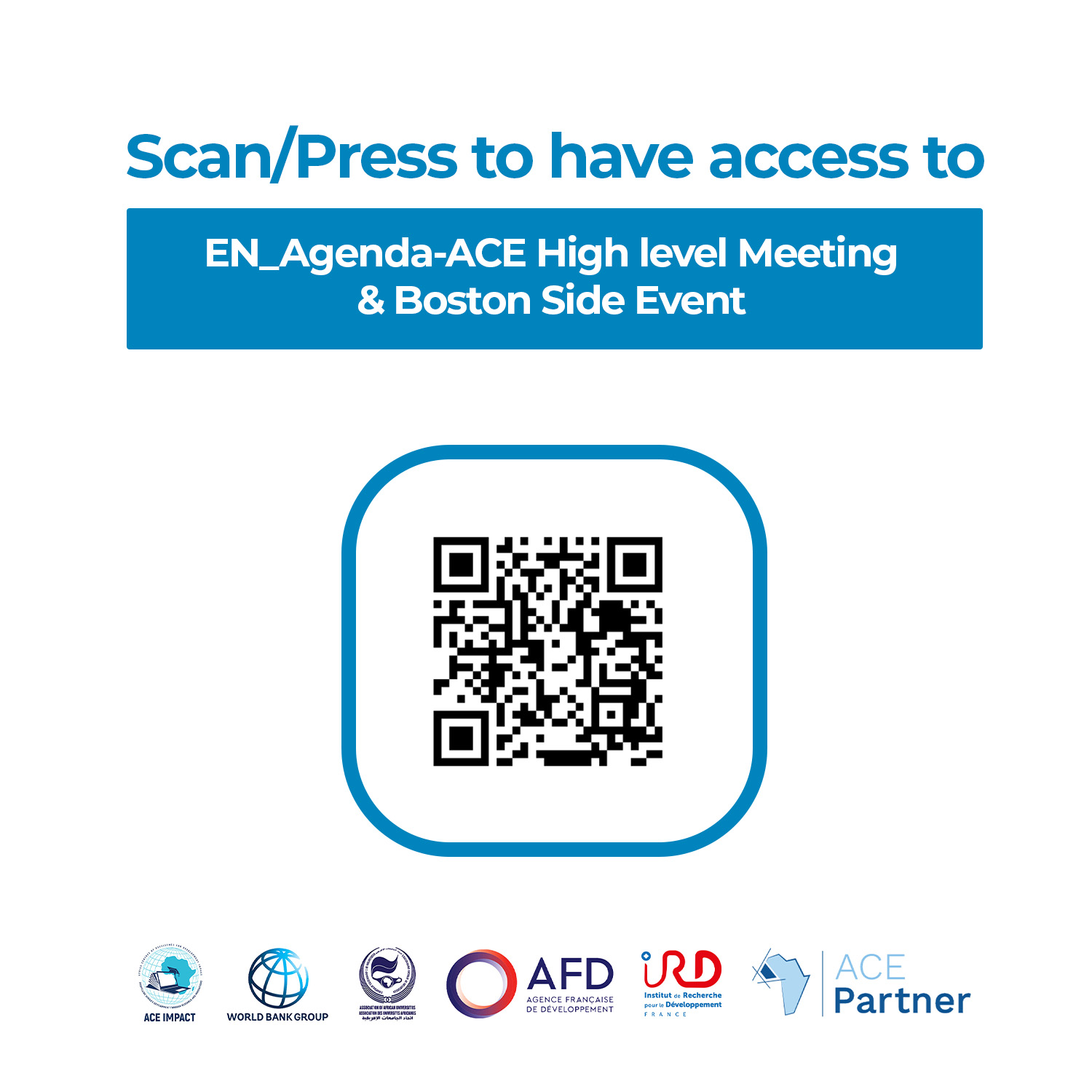 Organizations speaking/participating:
The expected number of participants is 150-200.
● The World Bank Group
● The Association of African Universities (AAU).
● The French Development Agency (AFD).
● The French National Institute for Research on Sustainable Development (IRD).
● The African Centers of Excellence (17 from AFW and ~5 from AFE).
● The European Union
● The African Center for Disease Control (Africa CDC).
● The World Health Organization (WHO)
● The Mastercard Foundation
● IBM
● Harvard University (disease surveillance experts).
● Wellcome Trust
● The Bill and Melinda Gates Foundation
● The Rockefeller Foundation
● Carnegie Corporation
● United States - National Institute of Health (NIH), National Academy of Engineers (NAE).
● Relevant universities in the VDH region.
● ... other ACE partners