Research, training and innovation
African Centres of Excellence, the key actors in excellence education and research to meet the challenges of Sustainable Development in Africa
The African Centres of Excellence for Higher Education (ACE Impact) project is an initiative of the World Bank and the French Development Agency (AFD) in collaboration with the governments of participating countries to support higher education and research in sub-Saharan Africa in the fields of science, technology, engineering and mathematics (STEM), environment, climate, agriculture, applied social sciences/education and health.
Today, 53 African Centres of Excellence are funded for a total of more than USD 400 million to strengthen the capacity of these universities to deliver quality training and research for development. The aim is to attract the best students, develop the quality of training and link their research to national and regional development issues, and establish partnerships with international universities and research centres.
The ACE Partner project is an institutional collaboration between the World Bank and the Association of African Universities (AAU), the French Development Agency (AFD), the Institute of Research for Development (IRD), and Inria. It aims to promote the outreach and collaboration of thematic research networks between African Centres of Excellence (ACEs), the key actors in quality education and research, mobilised around national and regional development issues.  
The ACE Partner programme aims to strengthen collaboration in training, collaborative research and capacity building and research between ACEs on common themes. It aims to build sustainable networks from a core group of ACEs by progressively opening them up to peripheral actors: Emerging Centres, faculties of universities in the region, research organisations, private sector, NGOs, etc.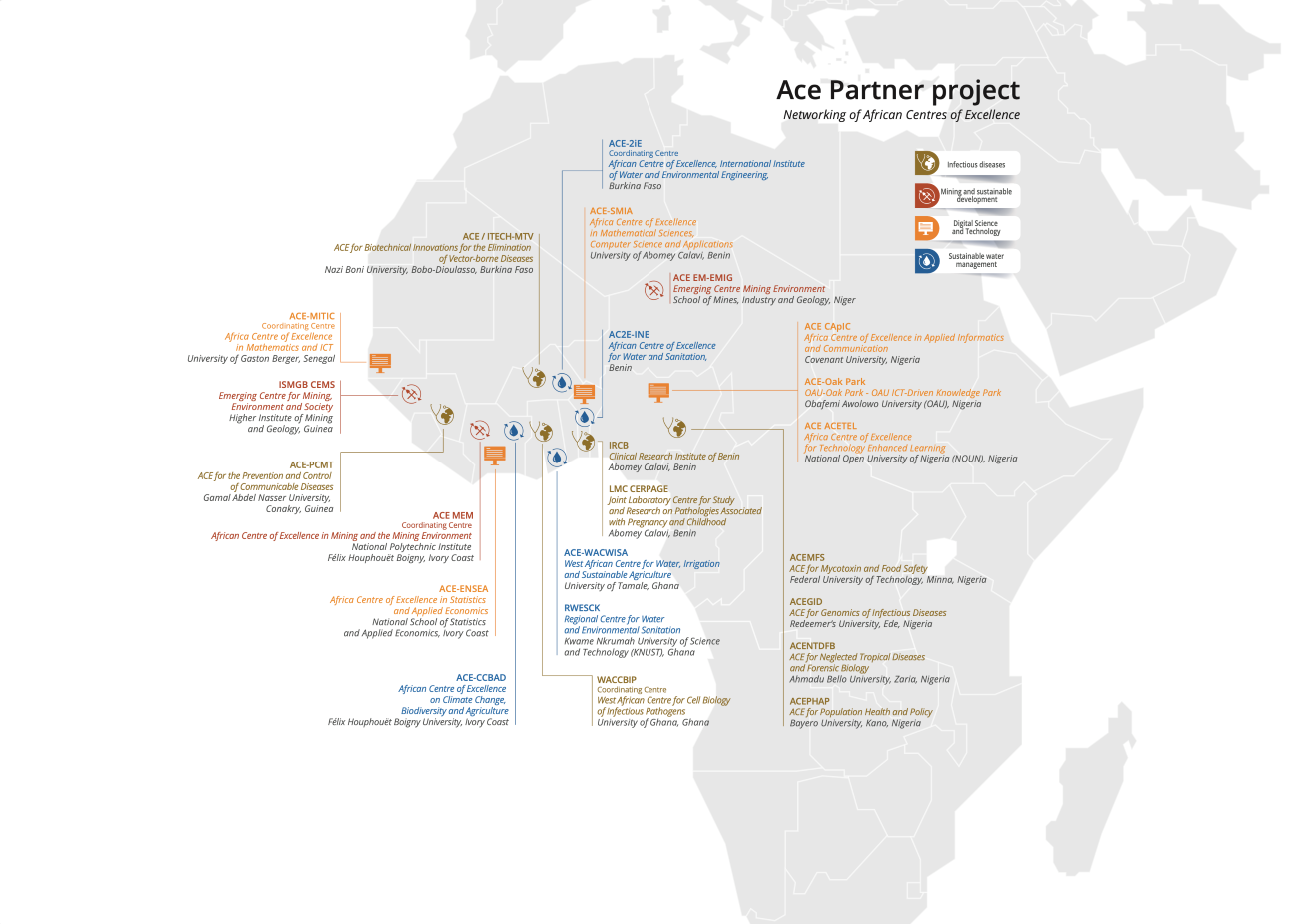 4 thematic networks are currently supported and include 23 Centres of Excellence in 8 countries :
>>Sustainable Water Management RES'EAU
>>Responsible Mining and Sustainable Development AMR2D
>>Digital Science and Technology DSTN
>>West African Network for Infectious Diseases ACE WANIDA
Discovering ACE Partner

Our Centers of Excellence